Products I use and love—and you might, too!
The products listed here are all products I either use personally or have personal experience with and can recommend highly. Links to most of these products are affiliate links to purchase the products on Amazon. By clicking one of these links, you help support Bob's Tech Talk by a small commission I earn on your purchase, without any added cost to you. The podcast and this website are free to you, and this is an easy way for you to help me cover some of my costs in keeping the podcast going. Thanks for your help!
Olight S2R Baton II Flashlight
My favorite flashlight of all time! See Episode #6, "Not Your Father's Flashlight," for all the details of this amazing pocket flashlight.
FUJITSU ScanSnap Scanners
This is the desktop scanner I use and that I talked about in Episode #2 of Bob's Tech Talk. It's a great scanner!
This is an updated version of the portable desktop scanner that I used to use; it has many of the same features as above, but scans a bit more slowly.
PingBingDing Over-the-Air TV Antenna
This is the over-the-air TV antenna discussed in Episode #4, Cutting the Cord — Alternatives to Cable TV:
Podcast Engineering School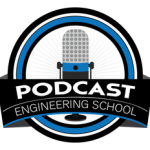 I am a 2019 graduate of the Podcast Engineering School. If you're interested in producing and editing podcasts, I highly recommend Chris Curran's Podcast Engineering School.