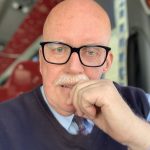 I have loved photography, gadgets, tools, Apple products, and technology practically as long as I can remember. My love affair with photography began when I was 12 years old. I bought my first Apple Macintosh Computer in 1985, and have been using Apple products ever since, both personally and in business. My dad taught me how important it was to have the right tool for the job (and not necessarily the cheapest one). He loved gadgets, too, so I guess I can claim I inherited some of my interests in gadgets and technology from him. He was still using his iPad until just a couple of months before his death a few years ago at 92 years old.
Not only do I love using technology, I love reading and researching and, maybe more significantly here, talking about it. My friends know I'm an Apple guy. And they know I probably have one of the latest cameras, or that I've at least been reading up on them. It's difficult for me to keep quiet about these things.
A few years ago I discovered podcasts, and I was hooked. I had lots of opportunities to listen to podcasts while I was driving in an empty bus (I drive motorcoaches for Hagey Coach, Inc. in Souderton, PA, as most of my friends know), and I have downtime waiting for passengers—more time to listen to podcasts. I discovered how easy it was to learn about all kinds of things, but especially photography, from listening to other podcasts.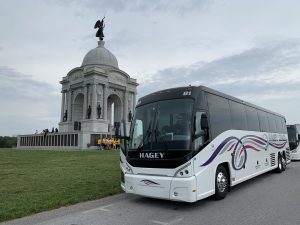 Since I drive for a living, I looked for a podcast for motorcoach operators and discovered, to my dismay, there wasn't one! My mind went to work…it soon became clear, I had to start one. That led to my first podcast in February 2019, "EightWheels Across America," especially for motorcoach operators and friends.
It was a lot of work, researching, studying, purchasing equipment, learning how to podcast and build an audience. And I'm not done—it's an ongoing process, to say the least. So I suppose it wasn't too surprising when I started thinking about putting the investment to further use and starting a second podcast about some of my personal passions. And that's how Bob's Tech Talk came to be.
This is not about money—I have no income from podcasting (with one minor exception—there are affiliate links to products I mention on the Resources page), and probably never will. But I'm learning a lot and having fun. I love sharing information. Along the way, I'm learning to become a pretty good podcast editor (and am a 2019 graduate of the Podcast Engineering School), which might bring some retirement income someday from other podcasters. For now, though, this is about fun, and I hope you'll find some enjoyment from my sharing, too.
If you find the podcast interesting, tell your friends about it. I don't mind talking to myself sometimes, but it's a lot more fun if I know someone is listening, or even better, enjoying and benefitting from it in some way. Let me know what you think—drop me a note on the Contact page with comments or advice or questions.
Thank you for taking the time to listen, and to read this. I really do appreciate it.